Ian McTigue
About Ian McTigue
In his career,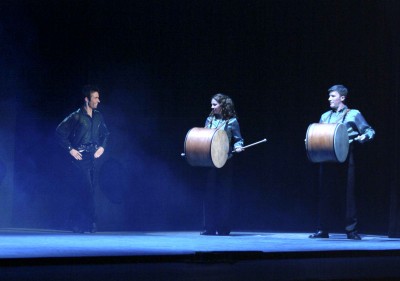 the Irish drummer and percussionist has learned to become prepared for every eventuality. He has played in iconic surroundings, such as New York's Radio City Music Hall, LA's Pantages, Teatro Municipal De Las Condes Santiago Chile, Orchard Hall Tokyo, Osaka Hall and Dublin's Olympia & Gaiety Theaters and massive venues, including Auditorio Nacional in Mexico City & Aviva stadium in Dublin, The 3 Arena. Ian has toured the world – from Alaska to the United Arab Emirates, performing with stage musicals (Macbecks, Improbable Frequency, Guys & Dolls, All Shook Up, Anything Goes, Calamity Jane & The Wedding Singer) and at iconic events such as golf's Ryder Cup. Ian, born in County Meath, Ireland, first became hooked on drumming from listening to hard rock albums as a kid. "Guns n Roses' Appetite for Destruction. Faith No More too," he says. He studied piano at the Royal Irish Academy of Music with Roisin Blake up to Grade 6. "My earliest memories are of tapping away at the drum stool and piano. I'd make the bass drum sound with my foot on the carpet, and the higher pitch of the snare drum on the stool. I was a frustrated drummer!" Before long, Ian began learning drums under the tutelage of renowned Irish drummer Mark Grist. In later years, he studied Irish and orchestral percussion under Eddie McGinn at Waltons New School Of Music, Dublin. The real apprenticeship, he says, was with his original band Nanook, which was renamed the West Seventies in 1999. The band recorded singles, albums, toured Ireland, the UK, Europe and the United States. They also performed on BBC, RTE, radio stations across the globe, and continue to have their songs picked up for film soundtracks. "All these years later, finally getting my music up on iTunes, knowing that it is written in stone, that it's always going to be there, is great," he says. "If my students need subject matter to focus on, I always refer them to the West Seventies stuff. Having your own original band from the start is a great apprenticeship: As good as any college degree. We were doing the music industry bloodbath, South by Southwest in Austin Texas and playing venues like CBGB's in New York, the 40Watt in Athens, Georgia, Dublin Castle & the Hope and Anchor in London. I'd recommend to anyone starting off, put your guitar in your bag, buy a bodhrán, and start touring and playing."
PLAYING TO A DIFFERENT BEAT
Touring drummers are accustomed to playing in old venues, but few can claim to have twirled their sticks in a 5,000 year old establishment. Yet Ian McTigue has done just that. In 2010, the drummer took to a stage at the Giza Pyramids in Cairo, Egypt, in his role as percussionist for Riverdance, the globe-trotting Irish dance phenomena. The troupe were in town to share a headline gig with legendary diva Mariah Carey, but the gig didn't go according to plan. "People think of Egypt as boiling hot, but in fact the temperature plummets from about sunset onwards," says Ian. "At about 6:30pm this mad wind started blowing up. I remember looking around my shoulder at the band and seeing three huge pyramids behind me and everything blowing around the stage. I also had my own three-minute bodhrán solo, so it was just me, some pyramids, the audience, and a mini-hurricane." The troupe eventually abandoned the stage. After the winds died down, Mariah Carey stepped up, but not before the small matter of swarming paparazzi were dealt with. The Giza Pyramids With Riverdance, 2010
PEOPLE AND PLACES
Along his travels, Ian has played with Riverdance, Moya Brennan, Frankie Gavin, the West Seventies, Robin James Hurt, Don Baker, Donal Lunny, Michael McGoldrick, Carlos Nunez, Camille O'Sullivan, Ronan Keating, Brendan Grace, Barry 'The Fish' Melton (Country Joe and the Fish), Laine Henderson and Jeff Tuttle. His festival experience includes: South by Southwest in Austin, Texas, with the West Seventies; Eurofolk Festival's in Ingelheim & Bad Wunnenberg Germany & The Electric Picnic with Robin James Hurt; and Triskell Festival, Trieste, Italy, with Moya Brennan. Ian's studio experience includes sessions and recordings with Robin James Hurt, Riverdance, Zoe Conway, Nanook and the West Seventies, Colin Scallan, Laine Henderson & The Pitch Perfect Choir. Television appearances include Beyond the Line on BBC, Live at 3 with Nanook, the Ryder Cup Opening ceremony on Sky Sports, the Today Show in NYC, Today's Star's on Sky with Riverdance. In late 2011, Ian's Percussion Workshops for Adults featured in the 8 part reality TG4 production Pitch Perfect.
RIVERDANCE
During his seven-year residency with Riverdance, Ian toured the USA relentlessly. Shows took in Canada, UK, United Arab Emirates and Kazakhstan. At a 2006 show in Guadalajara, Mexico, Ian moved from bodhrán to drum kit. "They were recording my gig to send back to Bill Whelan [Riverdance creator]," he recalls. It was a seminal moment for me, graduating onto the drum kit as opposed to being someone else's understudy. Guadalajara was really interesting: lots of people arriving on the back of pick-up trucks coming to see the show, as opposed to your typical American crowd arriving in town cars." Ian is still involved as a freelance musician with the Riverdance flying Squad, which brings the universal appeal of the show even further to corporate events, private functions, awards ceremonies, conferences, festivals, TV appearances, promotional events and charity functions and any other occasion that seeks a performance that is as exciting as it is entertaining.
THE WOMEN OF IRELAND
As the percussionist with the Women of Ireland, an outstanding Irish full stage production showcasing music, song and dance from a cast of Ireland's finest performers, Ian has recorded & performed in the USA, Japan, Germany, Switzerland, Italy & Chile in South America. Women Of Ireland Official Website